Dahabshiil Oo Baahisay 10 Shaqo Oo Ka Banaan Shirkadeeda.
October 22, 2021 - Written by Ahmed ALI
Dahabshiil oo baahisay 10 shaqo oo ka bannaan Shirkaddaas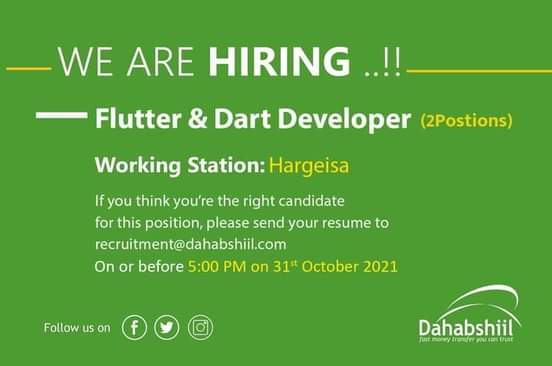 We are Hiring!
– Flutter & Dart Developer (2 positions)
– .NET specially C# and asp.net MVC knowledge with WEB API (2 positions)
– MySQL/Oracle/SQL Server DBA (2 positions)
– Full Stack PHP Developers (4 positions)
Dahabshiil money transfer system and its online services Dahabshiil.com employed the latest Fintech technologies and it remains a business committed to its original values of trust, reliability, integrity, and customer focus. Dahabshiil will now operate a strong and resilient global business across digital and agent channels. We hope to achieve significant progress in our digital growth strategy in 2022 through both our new P2P www.dahabshiil.com channel and digital partnerships.
If you think you're the right candidate for any of the above positions, please send your resume to [email protected] on or before 5:00 PM on 31st October 2021 of the job.
#Dahabshiil
COMMENTS