German Far Right Relishes Its Power as Merkel Struggles
November 27, 2017 - Written by admin
The far-right Alternative for Germany party sees Chancellor Angela Merkel's struggle to form a new government as proof of its growing power to upend the country's political order, a top party official told AFP.
Parliamentary group leader Alexander Gauland said in an interview that the current turmoil showed that the four-year-old AfD had succeeded in its primary goal in September's general election.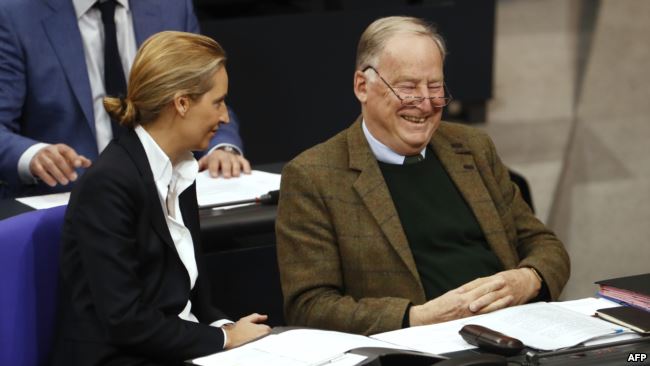 "It's all downhill for Merkel now, and that is partly our achievement," Gauland said, sipping a glass of rose at a lakeside Italian restaurant in Potsdam.
"Her time is up — we want her to leave the political stage."
The AfD campaigned on the slogan "Merkel must go,"
railing against her decision to let in more than 1 million mainly Muslim asylum seekers since 2015.
Its election score was nearly 13 percent, snatching millions of votes from the mainstream parties and entering parliament for the first time with almost 100 seats in the Bundestag lower house.
Although Merkel won a fourth term, she has thus far been unable to cobble together a ruling majority — an unprecedented impasse in German postwar politics.
The crisis could trigger snap elections. Yet despite polls indicating that the gridlock could lift the AfD to an even stronger result, Gauland, 76, seemed reserved about heading back into electoral battle.
"It is not up to us to call new elections and we aren't asking for them, but we are prepared for them," he said.
"None of us is hoping for that with great enthusiasm, but we would probably make gains."
Polls indicate that both Merkel's conservative CDU/CSU bloc and the rival Social Democrats would shed support if voters were called back to the ballot box.
'Voice to people's fears'
With his trademark tweed jackets and reading glasses, Gauland cultivates the look of an English country gentleman and expresses pride over the support his anti-immigration message has received from pockets of the British right wing.
In May he sparked outrage by saying that while German fans love star footballer Jerome Boateng, who was born in Berlin to a German mother and Ghanaian father, "they don't want to have a Boateng as a neighbor."
With the German economy humming and unemployment at a record low, the AfD has zeroed in on identity as a rallying cry.
Gauland, a former CDU member, acknowledged that meant playing to deep anxieties and resentments, particularly in the former communist east, about a multicultural Germany.
"We have always said that we give a voice to people's fears," he said. "We don't want the country to change to such an extent that it can't be turned back."
The co-leaders of the Alternative for Germany (AfD) far-right party, Alexander Gauland and Alice Weidel, laugh as they attend a session at the Bundestag lower house of Parliament in Berlin, Nov. 21, 2017.
The co-leaders of the Alternative for Germany (AfD) far-right party, Alexander Gauland and Alice Weidel, laugh as they attend a session at the Bundestag lower house of Parliament in Berlin, Nov. 21, 2017.
Apart from the current political volatility, Gauland sees the wind at the AFD's back due to an announcement this month by one of Germany's biggest employers, Siemens, that it was slashing nearly 7,000 jobs globally.
The industrial giant plans to close its sites in Goerlitz and Leipzig, both in the eastern state of Saxony, which the AfD won outright in September.
"That will probably help the AfD," Gauland said of the layoffs.
"In any case it is not very smart public relations when you rake in record profits and then sack people at the same time."
'Brexit and Trump'
Gauland appeared relaxed about parties such as the pro-business Free Democrats trying to poach some of the AfD's signature issues, including tougher border policies.
"There is the old fight about who is the original and who is the copy," he said smiling. "If the FDP moves in our direction, I can't condemn that as completely wrong."
Gauland played down rivalries within the AfD, seen most spectacularly in the resignation of former co-leader Frauke Petry just days after the general election.
Looking ahead to a party congress this week in Hanover, Gauland said the AfD would focus on its platform rather than personnel.
"People don't vote for the AfD because of specific people but out of protest at what is happening," he said.
Gauland said he did not see the AfD as riding a global populist wave.
"Everyone always says, 'Brexit and Trump, that will give you a big boost,' but I don't see it that way," he said, pointing to the distinct national roots of each movement.
"I have always been skeptical of solidarity pacts with parties that are supposedly similar," including France's National Front and the Dutch Freedom Party.
"An exception, though, is the FPOe," Gauland added, citing "cultural" ties with the Austrian far-right party now in talks to join a ruling coalition.
Asked about a protest this week in which a group of activists secretly erected a replica of Berlin's Holocaust memorial outside the home of AfD politician Bernd Hoecke, who has urged Germany to stop atoning for Nazi guilt, Gauland's temper flared.
"It is absolutely outrageous and the fact that the press is not up in arms surprises and angers me a lot," he said.
"But of course it will help [Hoecke] — that is absolutely clear."
Source:VOA
COMMENTS